Overhead Crane System
Free Standing Crane System is a perfect solution for situations where overhead crane installation is otherwise difficult or impractical. Because the runways are usually installed above the floor without footers, NFT Cranes work well in pre-cast concrete buildings.Since all connections are bolted rather than welded, the NFT is easily dismantled and moved to another location, an advantage when used in a leased building. The NFT free standing cranes low headroom design maximizes lift when headroom is at a premium.
Features
Capacities from 2 to 10 tons
Low headroom design
Easily relocated
Great for buildings not originally designed for cranes
Steel freestanding structure
Standard hand-held radio control
Inverter controlled hoist trolley and bridge with end trucks
Runway in lengths from 20 to 120 feet
Runway electrification
Standard spans of 20, 30 and 40 feet
Instructions for bridge construction and crane assembly, plus Maintenance Manual
Multiple cells can be combined for long runways; existing systems can be retrofitted with additional cells.
Single Cell Complete Freestanding Bridge Crane System
Two Cell Complete Freestanding Bridge Crane System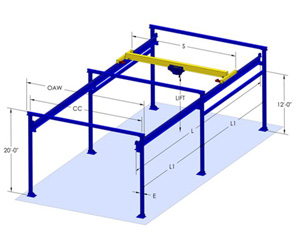 Three Cell Complete Freestanding Bridge Crane System
Four Cell Complete Freestanding Bridge Crane System